Leading TMT Bar Manufacturer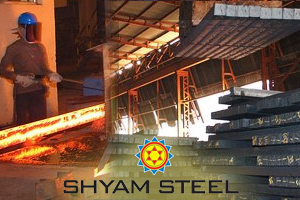 Presenting Shyam Steel Apna Ghar App, developed by Shyam Steel which is one of the leading TMT bar producers in India, manufacturing TMT rebar, billets & sponger iron.
Shyam Steel Apna Ghar is your one-stop solution for all construction material' needs under a single platform. From experts' advice to the free material calculator and hassle-free delivery to your doorstep, we aim to make the process easier by staying with you at each step, Neev Se Pravesh Tak!
Whether it is building your residential home or commercial building, it is a step towards a brighter tomorrow and we strive to provide you with quality services and materials for the finest construction complimented with experts' advice, unparalleled quality, hassle-free home delivery and much more!
Here are the key benefits of Shyam Steel Apna Ghar: :
More power in your hands: our mission is to make the construction process easier and transparent, so you have clarity with each decision and expenditure.
World-class quality products: we believe in presenting you only the world-class quality products to keep the structure of your building strong for decades to come
Your construction partner: from laying the foundation to the day of the inauguration, Shyam Steel Apna Ghar is your one true construction partner